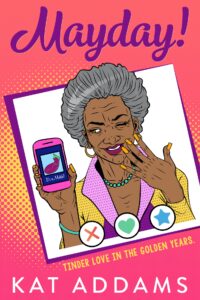 Want an e-book copy of Mayday for FREE?
Sign up for Kat's newsletter below!
Mayday!
---
Sometimes, all it takes is a hot meal—or a broken heater—to spark a long-lost flame!
Marilyn
I was looking for a handyman, not a "handsy" man.
And don't think I was too old to know the difference.
You wouldn't believe the things these eyes had seen.
Thought I'd seen it all—until I joined Tinder.
I was swiping men away like flies. To the left. To the left.
Too grouchy. Too gassy.
Not enough hair. Not enough teeth.
I was elderly, not dead.
The last person I'd expected to see was Clyde Jenkins.
Now, here was a man who could handle his tools.
Clyde
I was looking for a home-cooked meal now and again … and maybe a respectable woman to warm my bed.
After spending a little time on this online dating app, I wasn't sure there were many women my age still alive out there.
Then, I stumbled across a photo that gave my pacemaker—and other parts—a tickle.
Marilyn May … I knew she was a feisty lady and a dang good cook.
She'd also happened to be my first sweetheart.
So, I did what any self-respecting man in his post-prime would do.
I swiped right, trimmed my nose hairs, and pulled out my church shirt.
They don't call these the golden years for nothing!